The next development stage in the process control of stretch-reducing mills: atrac® smart control
In rolling mills, we repeatedly come up against the problem that the operator inputs for the parameters for controlling the crop ends and thus also the result depend strongly on the respective operator.
We re-analysed the problem and chose a completely new approach for our system. That's how atrac® smart control originated.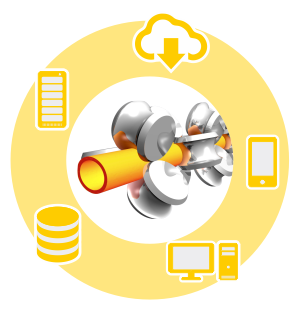 atrac® smart control can work without any operator intervention. In the course of a rolling process, it constantly compares the results obtained with the set rolling parameters and adapts them, if necessary, until the thickened ends are minimal or the mill has reached the physical limits.
Also taken into account is the protection against material tearing and other critical situations in the rolling mill, therefore: "it will be optimised to the limit".
The best results are stored at the end of the rolling lot and will be reused as the starting parameter for comparable production lots in the future. Then the self-regulation will continue.
Therefore, the problems that have occurred in the past will no longer occur.
The enthusiastic reaction of our customer confirms it: atrac® smart control is a great system, it delivers excellent results!
You can find more information in this short description. For further inquiries, we look forward to your contact.
For good seamless tubes: atrac®. Leading, future proof, reasonably priced.