New atrac® SRM:Lite app
August 08, 2018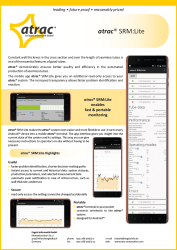 atrac® demonstrably ensures better quality and efficiency in the automated production of seamless tubes.
The goal of the atrac® SRM:Lite app is to further increase the benefits of the atrac® system through flexible access and rapid response.
Useful, secure, and portable - that is the new atrac® SRM:Lite app:
gives instant access to current and historical data,
enables faster problem identification & shortens decision-making paths,
notifies in case of critical errors, such as wall thickness underruns,
turns every Android™ device into a mobile atrac® terminal.
Learn more about atrac® SRM:Lite - download our flyer!
---